Christmas Blessing Project 2020 Reports
Thailand: Pastor Isara and Joy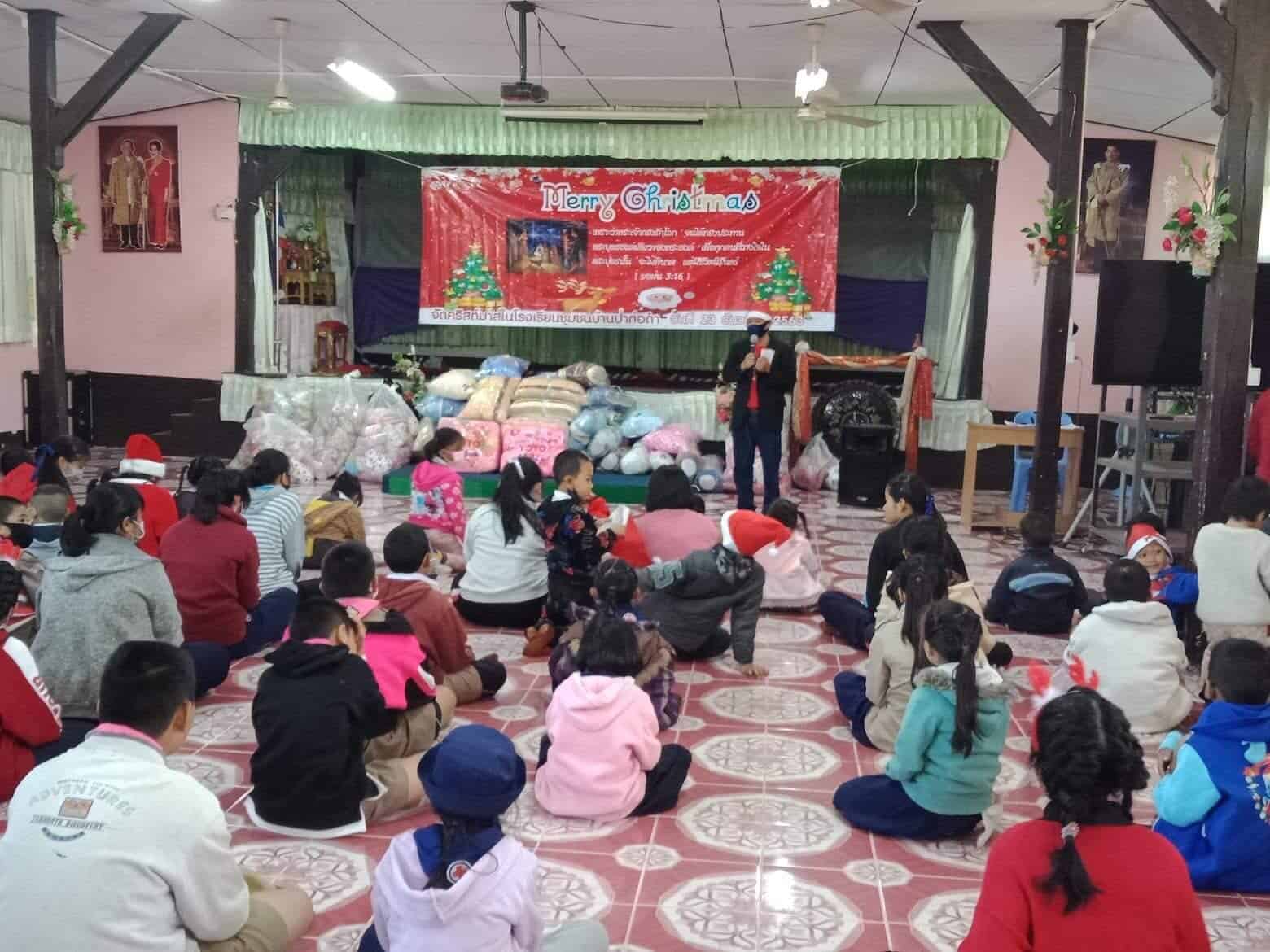 Pastor Isara and Joy with FTS ministries had an excellent opportunity to go into a local public school to host a Christmas Blessing Project celebration. It was a wonderful time, as you can see in the photos!
They sang songs, shared the message of the gospel of Jesus Christ to the children and teachers, and gave CBP gifts that included soccer balls, pillows, blankets, etc. The CBP gifts help open the school doors to present the gospel in this predominately Buddhist nation.
This event was indeed a celebration of the first coming of Jesus Christ and a proclamation of God's offer of salvation to all who believe in Him. They will follow up with more visits to the school and the homes of the families. Thank you to those who prayed and gave to make this event possible.
Message Ministries is honored to support the ministry of Pastor Isara and Joy monthly. Please pray for them as they minister in the northern part of Thailand through their church plant and local outreaches. They are very fruitful in ministry and deserving of our love and support.
Costa Azul, Lima, Peru: Iglesia Cristo Sanador Divino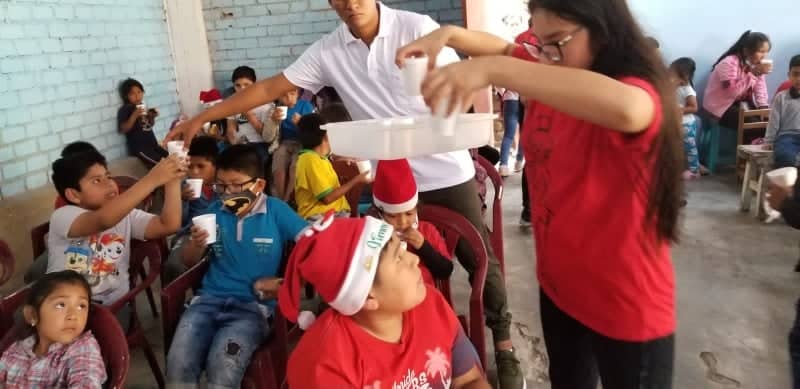 Pastor
Julio
of the Cristo Sanador Divino Church in Costa Azul (Lima, Peru) hosted a Christmas Blessing Project event for 80 children. With donations received, Message Ministries provided the funds needed to purchase the gifts. Thank you, God bless you, and Glory to God!
As you can see by the pictures and see in the video, it was a great day of celebration for these children and the church leaders. It was a beautiful way to end a very challenging year celebrating Jesus Christ together.
Pastor Julio along with Pastor
Everth
and
Maribel
have ministered faithfully to this community's children and families throughout this challenging year. They and the children were overjoyed to meet together again in the church building, even for a brief time. The sound of praise and the message of the gospel was heard throughout the neighborhood. Gloria a Dios!
As you look at these pictures will you say a prayer for the children, their parents, and the church leaders?
Thank you for helping us SHARE GOD'S HOPE with these precious children and their families!
Lima, Peru – Sweet Refuge Church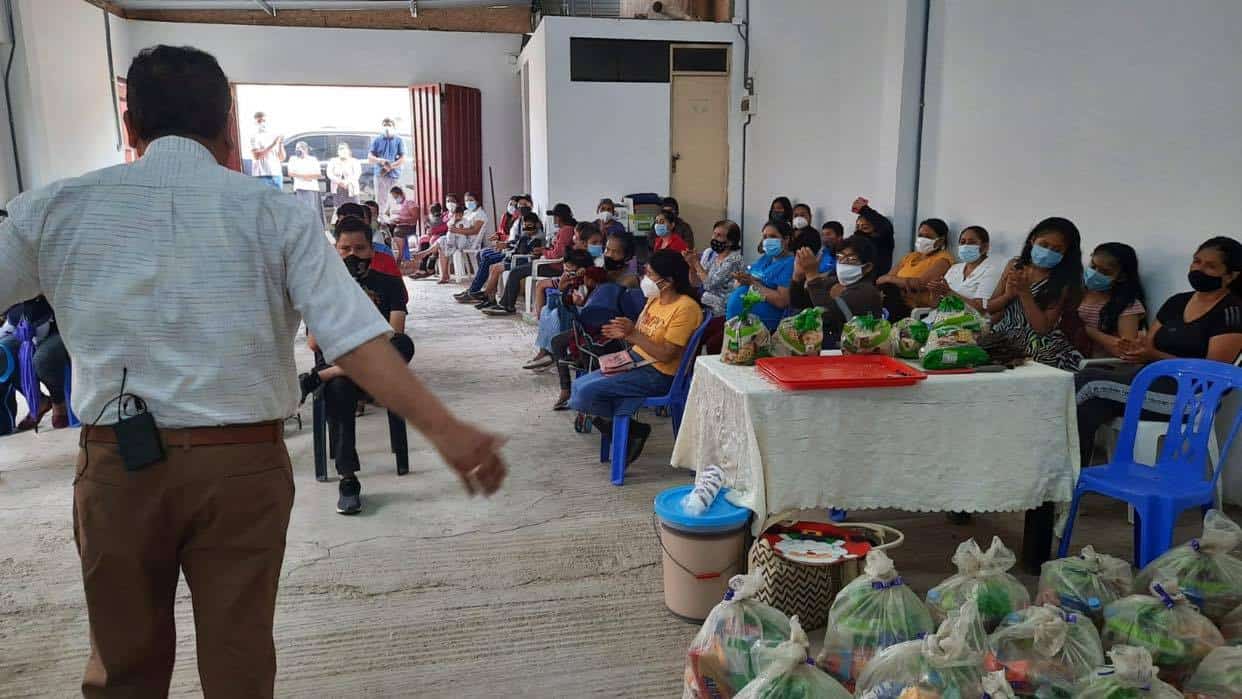 We praise God for Pastor
Gilberto
and
Doris
, their family, and the servants of God at the churches they lead. We shared how they decided to give away Bolsas de Amor (Bags of Love) to 100 families in an earlier update.
In their communities, they believed these bags of food and other essential items was more needful for the people than gifts because of the difficulties caused by the COVID-19 lockdowns. Message Ministries was able to help the churches with these outreaches.
Pastor Gilberto sent these pictures of the special services they held at the Misión Cristiana Dulce Refugio (Sweet Refuge Christian Mission) in Lomas de Carabayllo and in Independencia. The Bolsas de Amor were received joyfully and with thanksgiving by the people. They were also greatly encouraged by the inspirational message of hope Pastor Gilberto shared from God's Word in both locations. Jesus was glorified and His message of salvation was proclaimed! Gloria a Dios!
We have also included some pictures of their church ministry team, who helped prepare the Bolsas de Amor and cook meals for the people. They are Jesus' hands and feet, sharing God's hope in a time where hope is hard to find for many people. God bless them, Lord!
We are sending another big thank you to those who prayed and those who gave towards this year's Christmas Blessing Project. You helped make this happen, and we have many more reports to share over the next few weeks from different locations around the world!
Phnom Penh, Cambodia: Mercy Village – CBP Day 2
We praise God for the gifts given to these dear Khmer children in the name of Jesus Christ. We also praise God for the donors who provided the funds we sent to Mercy village, one of our MM partner ministries, to purchase Christmas gifts for 150 children.
Rin Yame, the leader of Mercy Village, sent these pictures and videos of their Christmas celebration on Christmas day. Our hearts fill with joy and gratefulness to God as we look and listen. Seeing these children and their leaders celebrate Jesus Christ in Cambodia is terrific.
We praise God for Rin and the other leaders for their faithfulness and hard work in the Kingdom of God! We send a special thank you to those who supported this year's Christmas Blessing Project. Without your help, we could not assist wonderful ministries like Mercy Village do the things they do. Glory to God! Gloria a Dios!
Phnom Penh, Cambodia: Mercy Village – CBP Day 1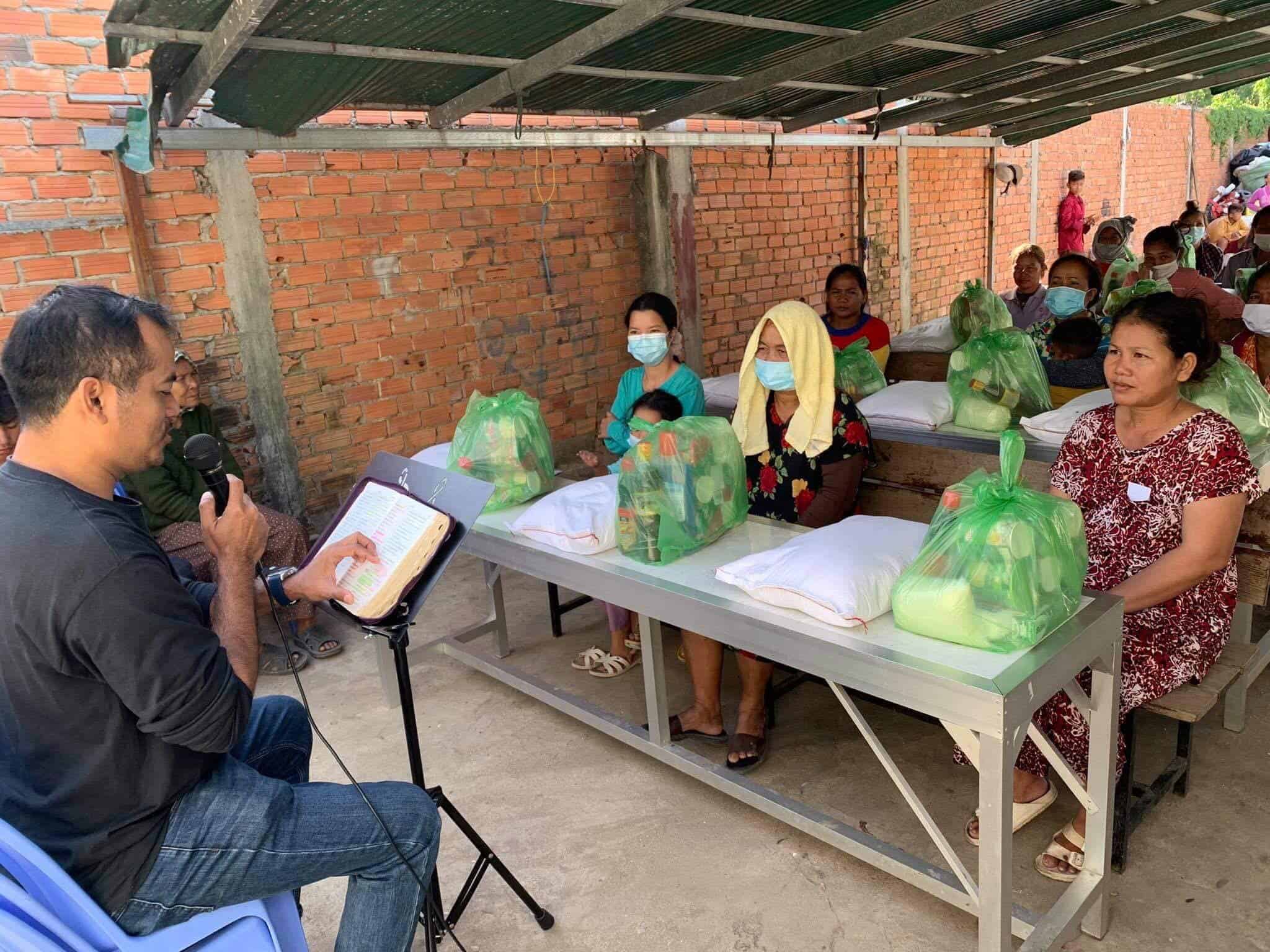 These pictures come from Rin Yame of Mercy Village, a ministry we partner with, in Cambodia. They are on day two of eight days of food bag giveaways. They host two sessions a day, one in the morning and one in the evening. Message Ministries is blessed to be a part of this Christmas outreach with this very fruitful ministry.
The pictures below are from the first day of Mercy Village outreaches. They can only host small groups at this time in Phnom Penh because of COVID-19 restrictions.
At each session, they share God's Word, encouraging believers, and reaching unbelievers. Then each family is given a bag with food items and other necessary items. Praise God!
Thank you for supporting this year's Christmas Blessing Project, which sends funds to support ministries like Mercy Village. Glory to God! Gloria a Dios!
Pachacutec, Lima, Peru: Casa de Dios Church and Children's Ministry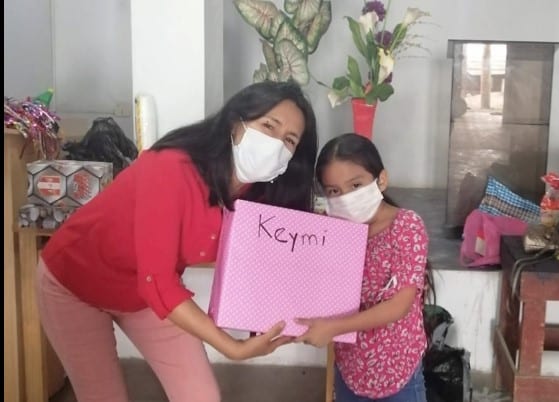 Pastor David and Susan sent these pictures from the Iglesia de Casa de Dios (House of God Church) Christmas Blessing Project celebration. This event took place on December 14. They had gifts for all the children who were there, most of which are part of the church children's discipleship ministry.
Pastor David shared a message from God's Word for the children. They had some paneton and hot chocolate. Then each child received a special gift chosen, especially for them by the ministry leaders.
The Casa de Dios and Christmas Blessing Project event was a big blessing to these children. For the most part, they have not been able to come to the church since the COVID-19 quarantines began. These gifts mean more to them this year than in previous years.
I want to send a special thank you to our MM Mission supporters who sent donations to purchase these gifts. May God bless you in wonderful ways!
Please continue to pray for Pastor David, Susan, and the other ministry leaders as they minister to the people of Casa de Dios Church in Pachacutec.
Huaraz, Peru: Huaral Prison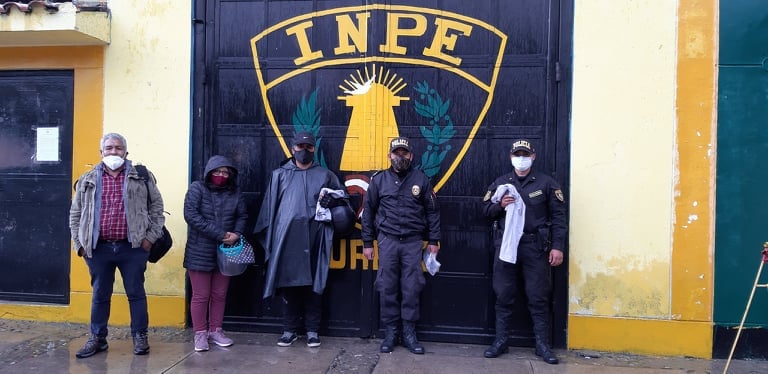 Would you please take a moment to pray for Pastor Fabian Santillan and the local ministry team as they go into the prison in Huaral today?
They will minister the gospel of hope to the prisoners and give out some Christmas Blessing Project gift bags. In this prison, they are not provided with clothing, soap, shampoo, toothpaste, toilet paper, etc. All they have is what a family member, a friend, or a ministry gives them.
Because of your generosity, Message Ministries could send Pastor Fabian $500 to purchase these items for the prisoners. Today he is bringing some of these necessary items for the prisoners and they will have some Panetone and hot chocolate. We also praise God for Yohar, a Peruvian brother who provided clothing for the prisoners. Gloria a Dios!
Please pray as he and the team share God's hope with the people there. Some are your brothers and sisters in Christ, and some are not. Perhaps today is the day sone will come to know the Lord and Savior, Jesus Christ! Amen!
"I needed clothes and you clothed me, I was sick and you looked after me, I was in prison and you came to visit me." (Matthew 25:36)
Phnom Penh, Cambodia: Mercy Village – CBP Gift Wrapping Day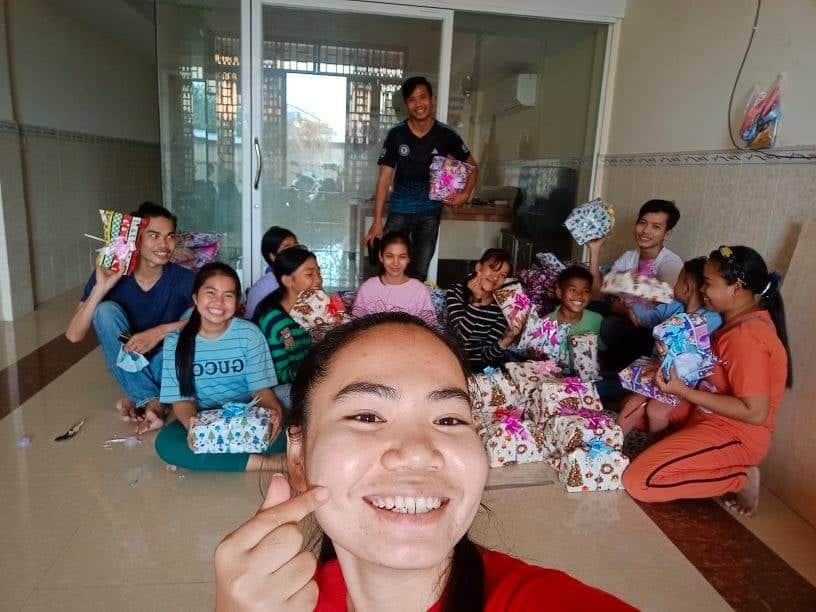 Let me start by thanking those who have prayed and given towards this year's Christmas Blessing Project outreaches in Cambodia and around the world. Without your love and support, we would not have many updates to share. By God's grace and your generosity, Message Ministries sponsored the 150 Christmas gifts for the children in and around Mercy Village.
We just received the following note and photo update from Rin of Mercy Village in Phnom Penh. Rin wrote, "Thank you
to all the teachers for wrapping the gifts
for the little ones.
May the Lord bless you all. Thank you
to Message Ministries for loving
praying and supporting the Children's Christmas gifts.
God bless you!
It is a blessing to me to see the teachers and the youth of Mercy Village wrapping the presents they will give to the children on December 25.
Mercy Village is a vital ministry to this impoverished community and we are blessed to partner with them! Rin and the other leaders like Andrea Stout, an American missionary, are doing tremendous work representing the Lord to the people there.
Please take a moment to pray for them as they continue to share the Good News of Jesus Christ with children, youth, and adults in and around Mercy Village. Thank you!
"Glory to God in the highest, and on earth peace, good will toward men." Luke 2:14