by Brian Mark Weller
It's time for a righteous revolt! I don't mean we should revolt against anyone else. We need a revolt against the callousness in our souls. We need a revolt against casual Christianity. We need a revolt against laziness. We need a revolt against selfishness and self-centeredness. We need a revolt against lukewarm living. We need a revolt against wickedness in high places. We need a revolt against closing our eyes to the needs around us.
Christian brothers and sisters, we are entering a serious time in history, and our lamps need to burn and glow bright before God and the world. Jesus said, "You are the light of the world. A city that is set on a hill cannot be hidden!" (Matthew 5:14 NKJV). God's light through us should be bright and unmistakable. Are we shining? As the old song says, we must "rise and shine and give God the glory!" Now is not the time to casually float down the river of life or fuel ourselves on past spiritual memories.
Instead, now is the time:
To set our hearts on things above, not on things of the earth.

To get strong in the Lord and the power of his might.

To work to fulfill our part in God's Kingdom call.

To let our roots grow deep and wide in God's river of life.
Are we Oaks, or Saplings?
Isaiah wrote of God's people: "They will be called oaks of righteousness, a planting of the LORD for the display of his splendor." (Isaiah 61:3 NIV) This verse describes Christians as oaks of righteousness— but many of us live like little saplings straining to hold on. It's time to live up to this verse, because we can't much display the Lord's splendor if we remain struggling spiritual saplings. We can't stand tall for God if we have shallow roots in God. We can't show the Lord's splendor if we need propping up all the time. Sapling Christians tend to get washed away in the flood of life's struggles. We need to revolt against shallow and self-centered Christianity!

Jeremiah wrote this great description of the person who follows God:
"He shall be like a tree planted by the waters,
Which spreads out its roots by the river,
And will not fear when heat comes;
But its leaf will be green,
And will not be anxious in the year of drought,
Nor will cease from yielding fruit."
(Jeremiah 17:8 NKJV)

King David the Psalmist echoes the same promise:
"He shall be like a tree planted by the rivers of water,
That brings forth its fruit in its season;
Whose leaf also shall not wither;
And whatever he does shall prosper."
(Psalm 1:3 NKJV)

Oaks of righteousness—fruitful trees planted by the water—these are the right and true descriptions of God's people! And we can become like trees planted by the water, but first, we need to revolt against any complacency infecting our hearts. If we do, these biblical promises of fruitfulness can become our heritage in the Lord.
How to Revolt Against the Darkness
God calls us to prepare our hearts for anything we may have to face in the future. The time to prepare is now! I don't claim to know what's ahead, but I do know that the Lord instructs us to be ready and to brightly shine in whatever darkness comes. It's time to revolt against the darkness with God's light.
How can we shine bright in darkness? By making a public statement of our allegiance to Jesus by our words and deeds. Yes, we display God's glory by living His commands and faithfully proclaiming His message. Isn't it a shame, then, that while the unrighteous unashamedly blast us with their confused ideas, many Christians sit timidly on the sidelines, embarrassed of their Lord and Savior Jesus Christ? Many professing Christians are embarrassed to say or post anything pertaining to true Biblical righteousness. Is that faith-filled living?
Of course not. But it's not too late to revolt. Today, God calls us to live like Paul the Apostle, who said, "I am not ashamed of the gospel of Christ, for it is the power of God to salvation for everyone who believes, for the Jew first and also for the Greek." (Romans 1:16 NKJV). We need to revolt against fear and live by faith!
Devotion, or Distraction?
How? There are many ways, but one is to spend time with God in prayer and the Word.
Tragically, many Christians remain distracted. They've received constant encouragement to spend time with the Lord, but they've never followed through. Because of that, they still cower in fear and defeat, and their witness remains very weak.
They may be courageous in their businesses—and even in their families—but not with God's call. It's like they're afraid to step into Kingdom living because of what it might cost! Well, Jesus commands us to count the cost! Until we do, we'll likely stay nestled in our cozy little corner of life. If we claim to be Jesus' disciples, the Holy Spirit will eventually invade our cozy corners with His loving conviction.
Revolting Against Selfishness
Jesus said, "For whoever desires to save his life will lose it, but whoever loses his life for My sake will find it" (Matthew 16:25 NKJV). We must decide whether we want to die to our will and plans and live for God or not. God will take it from there and lead the way!

If we haven't done so already, when will we:
Revolt against our own emotions that hold us back?

Revolt against the desires that steer us in the wrong direction?

Revolt against the enemy of our souls and his demonic forces? Will you send them away in defeat in the mighty name of Jesus?
Let's be honest; we all need a little spiritual coaching now and then. That's why God "gave the apostles, the prophets, the evangelists, the shepherds and teachers, to equip the saints for the work of ministry, for building up the body of Christ, until we all attain to the unity of the faith and of the knowledge of the Son of God, to mature manhood, to the measure of the stature of the fullness of Christ" (Ephesians 4:11-13 ESV).
Only with spiritual coaching will we "no longer be children, tossed to and fro by the waves and carried about by every wind of doctrine, by human cunning, by craftiness in deceitful schemes. Rather, speaking the truth in love, we are to grow up in every way into him who is the head, into Christ, from whom the whole body, joined and held together by every joint with which it is equipped, when each part is working properly, makes the body grow so that it builds itself up in love" (Ephesians 4:14-16 ESV). But are we willing to receive spiritual guidance?
Revolting Against Immaturity
God is calling His people to spiritual maturity. We all need to start growing in the faith—even if you're a spiritual newborn in God's family. Can you imagine seeing a thirteen-year-old still walking around sipping on a baby bottle? We would think, "What is wrong with that child's parents? How could they allow that at age thirteen?" We would also believe the thirteen-year-old should know better. Right? Let's apply that now to spiritual growth.

Many believers continue as babes in Christ when they already ought to be teachers. God calls leaders in the body of Christ to make true disciples—but many leaders only comfort lazy Christians in their compromise. That's no laughing matter.
The author of Hebrews addresses this very issue. He exhorts us: "Though by this time you ought to be teachers, you need someone to teach you again the basic principles of the oracles of God. You need milk, not solid food, for everyone who lives on milk is unskilled in the word of righteousness, since he is a child. But solid food is for the mature, for those who have their powers of discernment trained by constant practice to distinguish good from evil." (Hebrews 5:13-14 ESV)

Notice the phrase "trained by constant practice." Recently my three year old grandson learned to swim on his own. He got tired of having to be held in the water or needing a floating device. He wanted the freedom to explore the pool on his own, so he practiced until he got it! Now he speedily goes all over the pool with a smile that shouts—FREEDOM!

Spiritually speaking, some Christians refuse to practice and learn to swim. Many feel happy to merely dip their toes in God's river of life. Others feel satisfied to tread water — stuck in one place, not advancing — only surviving. Instead of swimming forward as conquerors on a mission of divine purpose, they stand still, going nowhere of importance. That's an incredibly dull life compared God's courageous call. God has so much more in mind for His people. He calls us to live as victorious soldiers in His army. To become such soldiers, we must advance in faith, rescuing those lost in the day's demonic darkness.

Ready to Revolt?
Dear friend, today is the day to revolt! Revolt against your stubbornness and rebellion and run into the purpose and plan of God. Revolt against deadly spiritual detours and take hold of your God devised destiny. Revolt and take hold of God's promises and leave behind everything that shackles you to the things of the world. Revolt—and walk in freedom!
As you go forward, remember Jesus' words: "If the Son makes you free, you shall be free indeed" (John 8:36 NKJV). If that's your desire, pray with me right now.
Father God,
I come to you in the mighty name of Jesus.
I come humbly yet boldly into your presence.
I come with complete confidence in your love for me.
I come asking for your power to deliver me from evil.
Deliver me from the evil of compromise.
Deliver me from the evil of selfishness.
Deliver me from the evil of neglect.
I ask you now to forgive me and cleanse my soul.
Make me clean in your presence once again.

I pray as David the psalmist:
"Hide Your face from my sins,
And blot out all my iniquities.
Create in me a clean heart, O God,
And renew a steadfast spirit within me.
Do not cast me away from Your presence,
And do not take Your Holy Spirit from me.
Restore to me the joy of Your salvation,
And uphold me by Your generous Spirit."
(Psalm 51:9-12 NKJV)
I ask you to renew my relationship with you as I revolt against the evil in and around me. I pray in your name Jesus Christ, my Lord, Savior, and King. Thank you for reviving me into your call and thrusting me forward into your plan. Amen!
Now brothers and sisters, go forward in faith. God is with you!
Brian Mark Weller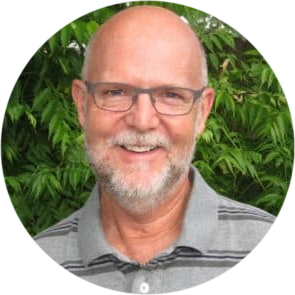 Did you enjoy this post? There's much more great content to enjoy! Watch the video

below to find out more.