Laos: Pastor S. Mission Update
We praise God for two youth camps Pastor S. and other local pastors put on to minister to youth in this communist country. The results were heavenly as these young people connected powerfully with God our Father and the Lord Jesus Christ through the power of the Holy Spirit. God used the teaching, worship, and fellowship to do a deep work in their hearts. Youth camps like this have a profound spiritual effect on youth, and we praise God for the hard work these leaders put into hosting extraordinary times like this. Some of these young men and women are or will become pastors, missionaries, and evangelists. Praise God!
Even as I write this, my heart fills with gratitude for the privilege of working with dedicated indigenous pastors like Pastor S. and for the great work they are doing in the 10/40 Window. Also, we are hugely grateful for our mission supporters who make it possible to support indigenous pastors like Pastor S and his children's home. Thank you!
Please take a few moments to pray for these youth in the pictures as they take what they learned and experienced at camp and seek to live it out daily. Also, please pray for Pastor S and his family as they minister to children and youth, lead a church, lead other Christian leaders, and for their children's home.
India: Pastor A. Mission Update
We are honored to support Pastor A, a truly dedicated, faith-filled gospel warrior. He works tirelessly and courageously to reach Indian people who have never clearly heard the gospel of Jesus Christ and then disciples them.
In a country where hundreds of millions have never heard the gospel, Pastor A. makes a huge difference, person by person and village by village. He goes as an Ambassador of Christ despite the threat of persecution looming around each corner! His wife and children pray constantly and fervently as he goes on these village outreaches. And besides these missions, he also leads a congregation in his village. He is a busy man in God's Kingdom!
Would you please take a few moments to pray for Pastor A, his wife, children, and those he's led to the Lord through his efforts? Thank you for your prayers and donations, which make it possible to send monthly support to Pastor A. and other Christian ministers in India. God bless you!
We are committed to reaching the people of India and the whole 10/40 window with the gospel. If you would like to help expand our outreach, please click here to find out how you can help us fulfill God's Great Commission there.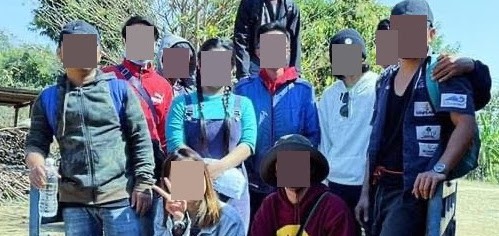 Evangelist Snee is a dedicated disciple of Jesus Christ. He is also a gifted musician. He uses his God-given musical talents to reach out to other musicians with the gospel. Snee befriends musicians, builds relationships, then shares the gospel with them. He started a Christian band with those musicians who once played for the world. Now together, they play music for the Lord and are reaching Burmese people with the gospel. Praise God!
Another part of his ministry is teaching youth and children the gospel through music lessons. This type of ministry is very effective in places like Myanmar/Burma and bears fruit. His ministry is also meaningful to us because Message Ministries was launched years ago as a result of our music ministry on the streets, parks, prisons, etc., in the late 1970s. Praise God!
Please pray for Evangelist Snee as he continues to minister to children, youth, and young adult musicians. Thanks to our mission supporters who make it possible to send monthly support to Snee.
Thailand: New Indigenous Missionary Evangelist Fon
Fon (center right) with some of the youth from their group.
We introduce you to Fon, our newest and youngest indigenous missionary. Fon graduated from the FTS Bible Training School in Chiangrai, Thailand, and recently graduated from a Thai Bible College. She is the daughter of a Thai pastor and grew up serving the Lord with her family.
Fon has a big heart for youth and hopes to reach many young people with the gospel. She is now serving the Lord in the church where her father is the Pastor. When her father started the church, they mainly ministered to tribal peoples who moved to the city. The children of these tribal families grew up in the city and now face a different set of problems than what these families encountered in the tribal regions of Thailand. With that in mind, Fon is an answer to their prayers. She is trained and ready by God's grace and power to be used by God to minister to children and youth.
She sent us her vision statement of how she plans to reach Thai youth, and we sensed the Holy Spirit leading us to send some mission support. Fon has a big job ahead of her as only 1% of the population in Thailand is Christian, and there are not many Christian youths in their city at this time. Fon prays that changes through the ministry God has called her to and by the power of the Holy Spirit.
Will you please take a few moments and pray for Fon? Please pray God gives her wisdom, courage, power, and many divine appointments with the youth in the church and her city. Thank you!
Invasion of Light Podcast
Our Invasion of Light Podcast is now available! So far, we've posted three episodes and have had a great response. The first podcast series discusses the question, "Can Christianity Still Change the World?" Please listen and let us know what you think!
We pray this podcast, which goes hand in hand with our book Invasion of Light, inspires God's people to be active in fulfilling God's Great Commission at home and around the world. Oswald J Smith said, "Go or send a substitute."
We encourage you to get a copy of our book, Invasion of Light: How Jesus Can Use You and Me to Win the Battle for Souls and Societies. To learn more, get two fresh chapters, watch the trailer, or buy the book now, visit www.invasionoflight.tv
Thank you for reading these mission updates and praying for these blessed ministers and ministries we support monthly through your generosity. We truly are grateful for you and thank God for you often! Together by God's grace, love, power, and provision, we are making a difference in lives around the world. Gloria a Dios!
We encourage you to visit our websites and social media platforms, where you will find mission updates and many encouraging messages, devotionals, Mission Moments, and more!