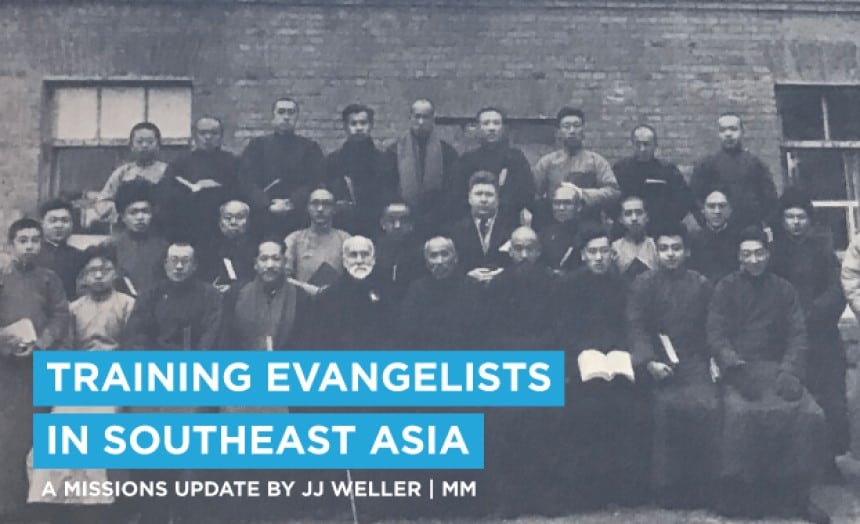 Several years ago I found a picture of revivalist Jonathan Goforth standing with a large group of Chinese evangelists he trained in the early 20th century. My heart burned within me: "Lord, may I someday train powerful evangelists who can canvas their regions with the gospel!" This June, God has opened the door for Message Ministries to do just that — and I'm thrilled to join!
In late June and early July, we will hold missionary training retreats for young disciples from more than 30 provinces in Cambodia and ___________. While there, we will teach about the character of God and biblical evangelism. We expect for God to move powerfully, refreshing the young disciples and empowering them to reach their unreached neighbors for Christ.
My soul is all aglow with the possibilities of these training weekends. After this training, how many lost souls will these SE Asian Christians reach? How many evangelists will THEY train? Will God use them to bring salvation to their towns; revival to their churches? I know one thing for sure: these young disciples will leave these training weekends equipped to preach Jesus to those who have never heard His name — and Jesus will glorify His name by using them to change many lives. I feel deeply thankful to God for the opportunity.
Would you like consider helping us to complete this task? Please read the insert below.
TO DONATE BY TEXT:
Text "SEASIACAMPS" & preferred amount to 1-727-877-3224 (1-727-87-REACH).
Thank you for your prayers, encouragement and mission support. Words cannot express our gratitude for your partnership with us in God's call to reach the world. We know our role is small because God's Kingdom is so big, but we want to faithfully complete the few tasks God has given us. I want to thank you specifically for your help with the Peru Flood Relief Project. Your generosity enabled us to help thousands of people!
I know it may seem we always ask for help. But we don't ask for ourselves, but for people praying for God's help and hope. We see ripe spiritual harvest fields around the world full of hungry and hurting souls. We want to jump with excitement at the opportunities God provides — but the spiritual and physical needs make our hearts ache. I hope you understand why we can't be silent. We ask for help to meet the needs God places before us.
To get things done in the call of King Jesus, God's workers need three things: finances, time and hard work. We must all learn to give financially — no matter how little or great. We must all give our time through volunteer service and/or prayer. And we must work until the task is complete, never stopping until the job is done. God has called us all to be missionaries — and we must complete the tasks He has ordained for us in the Great Commission. Thank you for doing your part! I encourage you to visit messageministries.org to see pictures, videos, and reports of what God does through us together by His grace and power. Thank you!